Turtle Magazine was a bi-monthly preschool magazine which featured stories and activities for preschool age children published by the Saturday Evening Post Society that is a sister magazine to Humpty Dumpty and Jack and Jill. In the final issue of the magazine, an interview with Mumfie was published to celebrate the release of "Mumfie's White Christmas" on DVD, which explains why Mumfie is a special little elephant and tells tales about some of his adventures. However, there were quite a few errors with the interview, which many fans speculate means that Mumfie's Quest, which was a major focus of the article, was just a dream.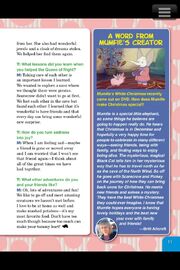 Ad blocker interference detected!
Wikia is a free-to-use site that makes money from advertising. We have a modified experience for viewers using ad blockers

Wikia is not accessible if you've made further modifications. Remove the custom ad blocker rule(s) and the page will load as expected.