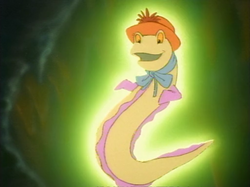 Eel
Species: Eel
Skin color: Yellow when lit in the Mumfie's Quest arc, green when lit in the series, dark green when not lit.
First Appearance: Sparks In The Dark
Last Appearance: Scarecrowella
Eel is a character in the animated series Britt Allcroft's Magic Adventures of Mumfie.
In Mumfie's QuestEdit
When Mumfie and Scarecrow entered the pirate cave, they saw mysterious flashes go off every few seconds. Mumfie found out the sparks were coming from Eel when he was lost in the pirate cave. Eel then helps them find Mr. Admiral, even though she hates the pirates because they stuffed her in jam jars to light up their barbecues. She and her friends later save the gang from the pirates.
In Magic Adventures Of MumfieEdit
Eel only appeared three times in the regular series. The first time was in the White Christmas special, where she uses her powers. She appears again in the episode "The Perils of Pearl", where she has to get her sprirt back after she fails one of her classes at school. Her final appearance was in Scarecrowella (the series finale), where she is the Fair-Eel godmother. 
Ad blocker interference detected!
Wikia is a free-to-use site that makes money from advertising. We have a modified experience for viewers using ad blockers

Wikia is not accessible if you've made further modifications. Remove the custom ad blocker rule(s) and the page will load as expected.